Signage has become part of our daily lives especially when we venture outside our homes. The world is a dangerous place and without signs or barricades, our lives would be in great danger. As Corona Virus continues to smash the world, businesses in different industries provided precautionary measures for people to follow. For this reason, signage and protective barriers play an important role in your business as a new normal policy.
DOOR SIGNAGE
The first thing customers notice when they approach your building is the signage outside the door. This will help them know if you are open to business or not.
MASK REQUIRED
Many people are unaware that they are carrying the virus. Inform everyone that wearing a mask is essential, especially when entering your facility. This simple friendly reminder will prevent everyone from being infected with the deadly virus.
TEMPERATURE CHECK
Fever is one of the warning signs of infection. Let people know that a body temperature check is required in response to COVID-19 safety guidelines.
HANDWASH/ SANITIZING AREA
Signage educating people to follow the basic hygiene procedure is an effective way to reduce the risk of COVID-19 exposure.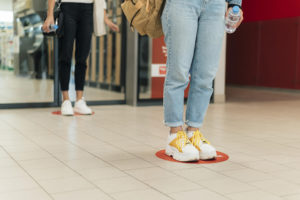 SOCIAL DISTANCING
Social Distancing has become a necessity. Social distancing signs are a great reminder for everyone to keep 6 feet away from one another to prevent the spread of the virus.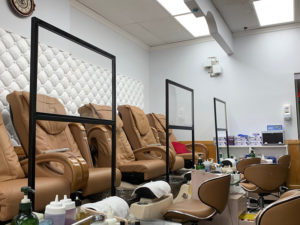 SNEEZEGUARD
While closer contact with workers and customers cannot be avoided, businesses were advised to install sneeze guards in their workplaces. This may help prevent germs since COVID-19 is a communicable disease and may spread through breathing, talking, coughing, and sneezing.
Consequently, signage and protective barriers are extremely important during this pandemic. This makes businesses responsible for ensuring the best practice of health for employees as well as customers.